Dr. Jan Dutz, MD, FRCPC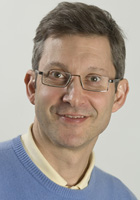 Dr. Dutz is a Professor at UBC and a scientist with the Child and Family Research Institute and the Vancouver Coastal Health Research Institute. He received MD degree from Queen's University. He continued with postgraduate training in Internal Medicine and Rheumatology (University of Toronto) and Dermatology (UBC).

Dr. Dutz has been the recipient of numerous honors and grants for research and investigation, and has co-authored over 50 scientific journal publications and 50 journal abstracts, as well as several chapters in books.

Dr. Dutz's practice includes a Connective Tissue Disease clinic, and he is one of a few physicians in North America to be board certified and maintain active clinical interest in both Rheumatology and Dermatology. He has been awarded for his teaching and in the connections he brings to linking basic science discoveries and clinical dermatology. His current interests are skin immunization, melanoma, diabetes, and alopecia areata.

Dr. Dutz is the Coordinator of Resident Research for the UBC Department of Dermatology and Skin Science, and the focus of his laboratory has an independent laboratory is to study the skin immune system and its participation in autoimmune disease.
24-12-18