Dr. Harvey Lui, MD, FRCPC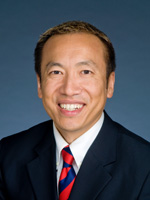 Dr. Lui has been the Medical Director of The Skin Care Centre, the Lions Laser Skin Centre, and the Psoriasis & Phototherapy Clinic since 1994. He is also the Head of the Department of Dermatology and Skin Science at the University of British Columbia.

After receiving his Bachelor of Science, Medical Degree, and Dermatology specialization from the University of British Columbia, Dr. Lui was a Clinical Fellow at the Massachusetts General Hospital, Harvard Medical School.

Dr. Lui is a member of the American Board of Dermatology and the American Society for Laser Medicine and Surgery. Along with his duties at The Skin Care Centre and UBC, he is also on staff at the BC Cancer Agency and the BC Children's Hospital.

Dr. Lui was awarded the University Killam Prize in 2001 for the quality of his teaching and for establishing a Fellowship Program in Photomedicine. Dr. Lui has been a visiting professor in Saskatchewan, Ontario, Harvard, Michigan, the Philippines, Singapore, Seoul, Hong Kong, Shanghai, and South America.

He has been the principal investigator in over 35 research projects, has published over 70 journal articles and over 80 abstracts, is the chair or moderator of many dermatological conferences, and is an editor and reviewer for several international dermatology journals.

Dr. Lui is also the current Director of the CIHR Skin Research Training Centre and the VGH Photomedicine Institute. His clinical and research interests include lasers, photomedicine, psoriasis, vitiligo, and dermatologic education.
24-12-18