Contact Information




Address:


Skin Care Centre
835 West 10th Avenue
Vancouver, BC
V5Z 4E8



General Inquiries:


604-875-5151




Directions to the Skin Care Centre


The Skin Care Centre is located at 835 West 10th Avenue behind Vancouver General Hospital. It is on the North Side of West 10th Avenue midway between Laurel and Willow Street.



Parking Information
Underground pay Parking accessible from the back alley is available on levels 2, 3 and 4.
A parking meter that takes credit cards only is located on the left side of entrance on Level 1. Parking rates are $2.00 per ½ hour or portion to a maximum of $10.00 all day (7am - 7pm).
Find a parking spot before purchasing your ticket and use the number of the parking spot when purchasing your ticket. The ticket does not need to be displayed in your vehicle. If you need to purchase additional time, you will need a special number which can be found on the ticket.
Designated wheelchair parking is available across the street at 828 West 10th Ave.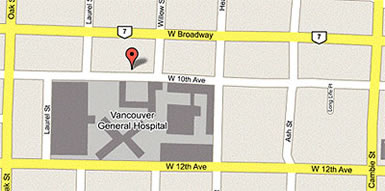 [Directions]